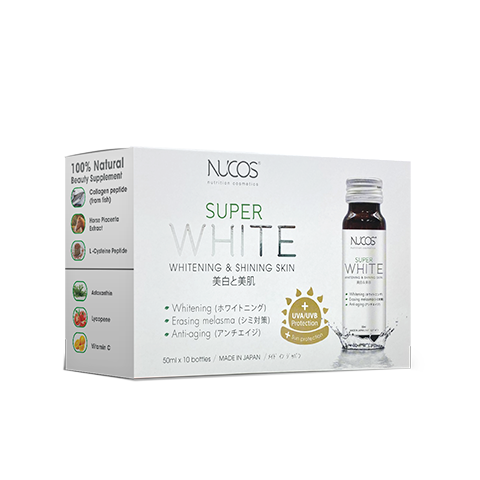 NUCOS SUPER WHITE
Product ID:

NSW
Product description
MAIN INGREDIENTS: Collagen Peptides, L-Ascorbic Acid (Vitamin C), yeast extract ((Contain L-cysteine, Glutathione), extract of red algae Haematococcus (containing Astaxanthin), Coenzyme Q10, Vitamin B3, Vitamin B6, Vitamin E, placenta extract, extracted from coffee maker sour (contains Lycopene).
USAGE:
Help replenishes the skin.

Supports the reduce Melasma.

Help skin glow.
OBJECTS OF USE:
For people aged 18 years and older, who suffer from Melasma, gaming, people want protects and improves skin
USUAL DOSAGE:
For the dose attack: 1 bottle/day during 1-3 months.

For maintenance dose: 3-6 bottles per week.

Drink after breakfast or lunch.

More delicious when cold drink.
* Preservation: The dry cool place avoiding direct sunlight. To far from the reach of children.
* Note: The product is not a drug, does not have the effect of replacing the medicines.
#nucos-super-white #super-white #nucos-japan #super-white #whitening