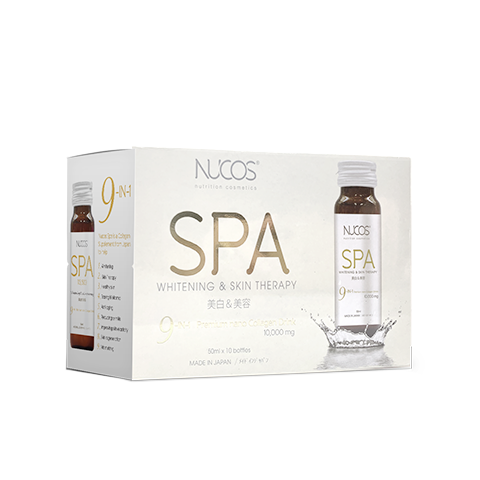 NUCOS SPA 10.000mg
Product ID:

NSP
Product description
MAIN INGREDIENTS: Collagen Peptides (derived from fish-low molecular Collagen extracted from fish), Yeast Extract, Coenzyme Q10, Emulsified (yeast extract), Fist Elastin, L-Ascorbic Acid (Vitamin C), Hyaluronic Acid, d-α-tocopherol (Vitamin E), Food Additive β- Carotene Preparation, Food Additive Tomato Color Preparation (Lycopene extracted from tomatoes).
USAGE:
Help replenishes the skin.
Reduce the oxidation process.
Helps protect against skin aging.
Increases elasticity and firming of the skin.
Help reduce wrinkles, sagging, Brown sun spots, freckles.
Maintain your skin fresh, bright white.
OBJECTS OF USE:
For people from age 25 upwards
USUAL DOSAGE:
For the dose attack: 1 bottle/day for 20-30 days (depending on the level of aging of the skin).
For maintenance dose: 2-3 bottles per week.
The best drink in the morning after a meal or as directed by the health care professionals.
Shake well before drinking.
* Preservation: The dry cool place avoiding direct sunlight. To far from the reach of children.
* Note: The product is not a drug, does not have the effect of replacing the medicines.