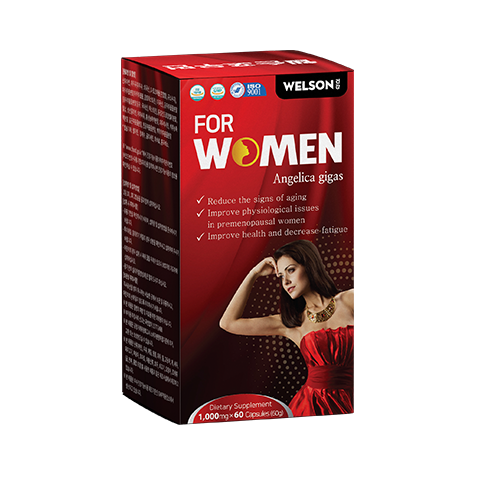 WELSON FOR WOMEN
Product ID:

WFW
Product description
CODE: 8809548440079
MAIN INGREDIENTS: Extract of Red Ginseng Korea 6 years Old, Maca extract powder, Korean constant extract powder, Royal jelly extract, Fish collagen, Soybean oil, Beeswax, Flax seed oil, Soy lecithin, Extraction powder Pomegranate, Kudzu extract powder, Soap extract powder, Peony extract powder, Zinc sulfate.
USAGE:
Supporting improvement of symptoms due to female hormonal deficiency.
Improving female physiology.
OBJECTS OF USE:
Women age 18 and older want to improve their physiological problems.
Do not use the product if the seal under the cap is lost or damaged.
USUAL DOSAGE:
2 tablets / day after breakfast
* Preservation: The dry cool place avoiding direct sunlight. To far from the reach of children.
* Note: The product is not a drug, does not have the effect of replacing the medicines.